Flash Shipping 🚀 
Limited quantity
In stock at California Warehouse.We can send out in 2 working days From California Warehouse.
✔Features

Good airtightness (upgraded version): It has strong friction and fit, which makes the Mason jar tightly sealed.No Worry About Leakage.
Fresh-keeping products: specially designed to preserve food, it can keep fresh for a long time, allowing you to eat fresh food.

They are easy to clean.
Includes 12 metal structure lids for regular and wide-mouth cans.
Material reuse: it is made of aluminum material, which can be washed and used, clean and environmentally friendly.Can Be Used in Refrigerators,
Dishwashers, Water Bath Canner, Microwave Ovens, Etc.
Use these lids for jam, jelly, salsa, etc. This product does not contain BPA.and Can Also Be Used for Artwork, Gifts, and Decorations.
You Can Use a Marker to Mark Food Related Information on the Mason Lid to Help You Record the Production and Purchase Time of the Food.
✔Specification
Size:

 

Wide Mouth 3.39" (86mm) / Regular 2.75" (70mm)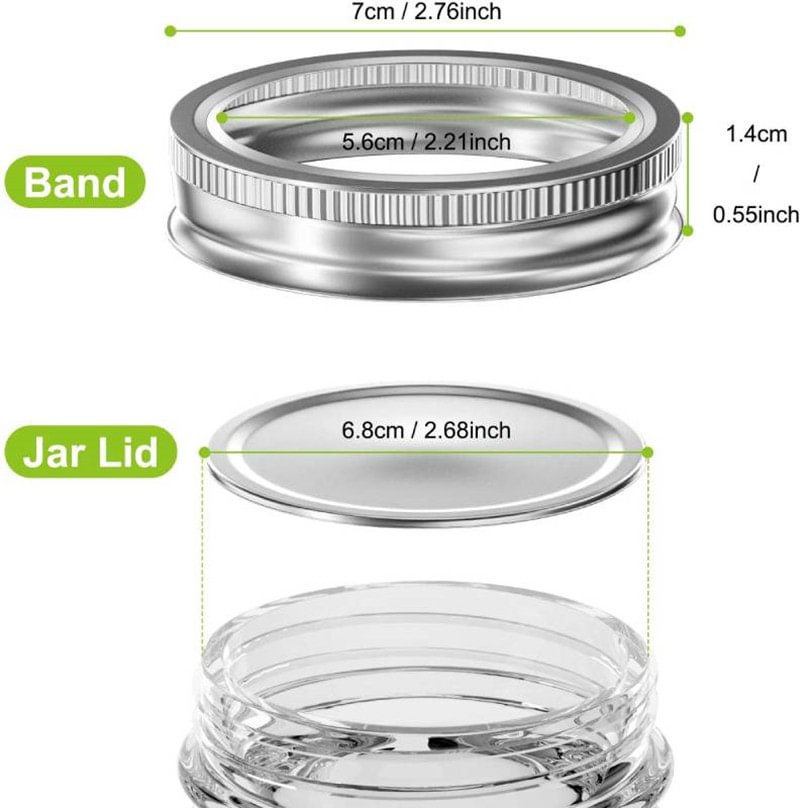 Package

 

information:
12PCS (12pcs Jar Lids + 12pcs Rings)

24PCS (24pcs Jar Lids + 24pcs Rings)

48PCS (48pcs Jar Lids + 48pcs Rings)

72PCS (72pcs Jar Lids + 72pcs Rings)

96PCS (96pcs Jar Lids + 96pcs Rings)

144PCS (144pcs Jar Lids + 144pcs Rings)

288PCS (288pcs Jar Lids + 288pcs Rings)
Remind:
Our lids and bands are made of stainless steel, please dry with cloth immediately after use.  
Metal can rings can be washed in a dishwasher, but need to be dried and stored in a dry environment to prevent moisture and rust.  
Boil the tin rings in hot water after each use to better protect your health and that of your family.  
After receiving the goods, we can solve any problem, you don't have to worry!